Changelog
[2.13.0] - 14-09-2023
Added
Added alias functionality to Sankey diagram
Improved legend labels in Sankey diagram
[2.12.0] - 22-08-2023
Improved
Added a new filter option in venn-diagram,

Now user can choose filter the complimentary set. This option is available settings pane.

Added alias options for venn-diagram

Now the user can have custom labels for venn-diagram sets.
[2.11.0] - 06-07-2023
Added
New filter option in the source-target Sankey diagram.
-Now its possible to filter either the selected node alone or the selected node and all its direct and indirect connections. This is helpful
when you have to explore relationships between nodes. By focusing on direct and indirect connections comprehensively,
users can make more informed decisions, discover hidden relationships, and identify critical nodes that impact the entire system.
[2.10.2] - 14-06-2023
Fixed : Issue with chord diagram not showing up when the container size is small.
Improved data preparation for chord diagram, the data preparation now will handle missing pairs in the matrix and replace it with zeros.
[2.10.1] - 04-05-2023
Improved enterprise executable.
[2.10.0] - 20-04-2023
Added option to show average group in the radar chart
The group shows an average for all characteristics
Option to inverse the radar chart.

This means higher values will be closer to the centre of the chart and lower values will be closer to the edge of the chart.
[2.9.1] - 24-03-2023
Added debugging features for the development team in the cloud versions.
[2.9.0] - 17-03-2023
Added
General improvements to the extension, including performance improvements and bug fixes.
Added a new colouring scheme to source target sankey (colour by levels).
Improvements to source target sankey legend.
[2.8.3] - 15-02-2023
Improved
Improvements to the welcome screen, and error handling when loaded in an Iframe
[2.8.2] - 08-02-2023
Added
Updated the network diagram group mechanism.
Improved the source target sankey filter actions.
[2.8.1] - 06-02-2023
Fixed
Patch: Welcome screen not showing up in some cases
[2.8.0] - 31-01-2023
Added
Added a new visual, source target sankey

This sankey diagram works with a source target data structure. The algorithm calculates the levels and depth automatically based on the data.

Improvements to the circular sankey: Improvements to layouts and padding
Improvements to the loading screen
Added tableau fonts feature, now the user can choose to automatically update the extension font with respect to tableau fonts.
Removed deprecated GA dependency.
Performance improvements: Now the user can configure the highlight action to be performed only on click in the sankey diagram. This will improve the performance of the sankey diagram in case of a large dataset.
[2.7.0] - 20-09-2022
Added
Improvements to the network diagram. Now you can store the positions of nodes in either setting or in a parameter of your choice.

There are two ways to save the position of nodes: settings and parameter. Save to the settings is only available to the dashboard designer. Save to the parameter is available to the dashboard designer and the dashboard user. This feature improves the usability of the extension by letting the users create their view.
Added a new drill action to highlight all relationships, which lets you highlight the direct parents and all direct and indirect children of the selected node. This option is available in settings as well as in the analytics pane.
Fixed minor bugs with the link and arrowhead opacity in the network diagram.

Improvements to the waterfall chart

Now you can control the Y-MIN value in the waterfall chart. The percentage value represents the percentage of the total value. This feature now lets the users highlight the important values in the chart.
[2.6.2] - 05-07-2022
Added
Added option to control the visibility of node and link labels in the Sankey diagram.
Added an extra option to configure the tick size for the ridgeline plot, to accommodate less frequent values in the visualization
Improved
Improved filter actions in the Venn diagram, fixed issue with Venn where the filter is not applied correctly on some occasions.
Improved the ridgeline plot where it can accommodate higher values for kernel bandwidth and kernel density
FIXED
Fixed issues with Venn diagram legend colors.
Improved the default colouring scheme for the Venn diagram
[2.6.0] - 20-05-2022
Added
All visualizations now get an option to have HTML tooltips. You can type your HTML code in the tooltip field.
Improved the network diagram with new drill-through functionality. You can now perform a drill through analysis with controlled drill direction and drill depth.
With a new setting in the network diagram you can enable an analytics pane with which you can configure the drill-through functionality of the network diagram. The action will also create a line around the nodes which are inside the highlighted node.
Added an option to set the layout size, with this option you can increase the distance between nodes and the edges, With the right data and right settings you can get a nice layout which resembles different network topologies.
Added a new optional dimension to the network diagram, with this dimension you can group the nodes.
Now you can use the quadrant positioning option in the settings to place nodes in groups, expanding in an X or Y direction.
The Sankey diagram gets a new option to add a legend
Now you can add the set number as a label inside the intersections.
Improved the Venn diagram algorithm to make it handle more complex sets.
Added
New visual: Network Diagram 2.0
A network diagram is a data visualization method that allows users to easily understand relationships in data. Now we have a new version of Network Diagram with improved and new functionalities. With the new Network Diagram, it is now comes with lot of customization options.

The nodes offer many customizations, for eg., you can also pin nodes to any position in the canvas, and can unpin with a right-click.
An outer circle can be added to the node with a custom colour from the data (The colour can be set from the data).
Search bar is added to search and highlight a node or link.
The old version of the network diagram is deprecated now but it is still available. The new version is more user friendly and more interactive and filled with more options with more customization options.

New Visual: Geo Sankey
Inspired by the already existing Sankey Diagram now we have added a new type of Sankey diagram that can visualize flow in different magnitudes from different locations geographically. Dashboard action can be performed from both nodes and links. The viz will be plotted on top of an interactive, zoomable map.
You'll need 6 dimensions and a measure to create a simple Geo-Sankey diagram

Dimensions:
-Source : Source name
-Source latitude
-Source longitude
-Target : Targety name
-Target latitude
-Target longitude
Measure:
Flow :Value

There are various colouring options available for the links. However, the source and target nodes always need to be coloured manually.
The dashboard designer can configure the visibility of the flow path to always be visible or to be visible only when the user clicks on the node.
IMPROVED
Improvements to the zoom and draw functionality in the Sankey Diagram. Now if there are a very high number of nodes in the Sankey, the diagram shrinks to fit the screen. Later you can zoom in and out to see the full flow.
Added a custom legend option to the visualizations which already had a legend option.
Improved filter action in Venn Diagram. Now you can click on the outside of the circle to clear the filter.
Improved interaction in tableau viewer mode, improved dashboard action performance in tableau viewer mode.
[2.4.3] - 17-3-2022
FIXED
Fixed a bug where the mark selection was not working properly in tableau viewer mode.
[2.4.1] - 21-12-2021
Added
Zoom function for the organization chart
Now it is possible to zoom in and out of the organization chart and to move it around the screen with the mouse.
[2.4.0] - 08-12-2021
New Visual: Waterfall Chart
Create a beautiful waterfall chart with subtotals in seconds with our latest addition! A waterfall chart shows a running total as values are added or subtracted. It's useful for understanding how an initial value (for example, net income) is affected by a series of positive and negative values.

3 powerfull ways of creating a waterfall:
1 measure analyses, show the trend of a measure across categories and/or time.
2 measure analyses, show difference between Actual Sales and Budget Sales
N measure analyses, show how a measure is built up from different measures, like Gross Sales -> Net Sales using Measure names / Measure values

Fixed font size config option for all visuals
Optimized the default color palette to align Tableau.
[2.3.1] - 29-11-2021
ADDED
Added zoom functionality to sankey-diagram, now the diagram zoom and drag interaction for a better use experiance

Added zoom reset button on top right and top left corner. The button is visible when hovering over the top corners. If not clicked, the button dissapears in 3 seconds.

Bug fix and Improved positioning of header labels.

Bug fix and improved positioning of lengend position top and bottom.

Improved spacing of lables.
[2.3.0] - 27-09-2021
Config - Improved conditional rendering of settings. Only settings applicable to the selected visualization will be visible in the config panel.
RadarChart Improvements -

A new trigger to dashboard action has been added to the Radar Chart. Now you can click on individual nodes to filter the data.
Previous filter/selection on node groups remains the same. When you click on the area of radar you can select and filter on the node group.
Improved customization of labels. Now you can customize the font size and colour of the axis and labels separately.
[2.2.4] - 22-09-2021
IMPROVED
Code cleanup
Fixed Chord Diagram bug showing incorrect values
Fixed a bug causing double rendering
[2.2.3] - 23-08-2021
FIXED
[2.2.2] - 30-07-2021
Bugfix - Disappearing labels
Change/Improvement - Label position
[2.2.1] - 23-07-2021
Bug - sankey color assignment fixed
[2.2.0] - 07-06-2021
ADDED
Dashboard actions allow you to add multiple actions to Sankey Diagrams. Supported actions are: filter actions and parameter actions. Both are supported on nodes as well as on links.
On radar chart, the 'color by' option has been removed. The radar chart will always color to the selected dimension.
When using radar chart with a legend, you can now click an item in the legend to highlight it in the viz.
IMPROVED
When adding new items to the viz using the new color system, colors are automatically assigned instead of being black.
[2.1.2] - 28-05-2021
IMPROVED
Fixed a bug where dimensions were not shown properly for new color system on Radar Chart
Fixed a bug where color legend did not show properly for new color system on Radar Chart
[2.1.1] - 29-04-2021
IMPROVED
When no data is present to display a visualisation (for example, when a filter is excluding all values) the visualisation will not show. Instead, it'll display an informative message.
Bug fixed where headers could appear in the middle of a Sankey diagram.
Improved appearance of legend header and Sankey header.
[2.1.0] - 30-03-2021
ADDED
New color formatting! You now have the option to use a completely renewed color system. Instead of filling a list with colors and have them randomly assigned to dimensions and measures, the new color formatting let's you assign colors to specific members.
New legend options. You now have the ability to show a legend for all visualisations. In addition, a new legend tab in the configuration panel let's you configure the legend to your needs.
Scale legend for Sankey. Instead of the standard color legend, Sankey and Circular Sankey have the option to display a scale legend that shows the value of the scale of the bars and links.
[2.0.3] - 23-03-2021
IMPROVEMENTS
New enterprise and share build process
[2.0.2] - 23-11-2020
IMPROVEMENTS
Improved build process
Sankey Diagram: major improvements to visualising NULL values. You can now include null values and visualize flows from column 1 to column 4 with nulls in columns 2 and 3. Also nodes can now start at different levels and end at different levels. Use the 'Hide Nulls' settings to show or hide null values!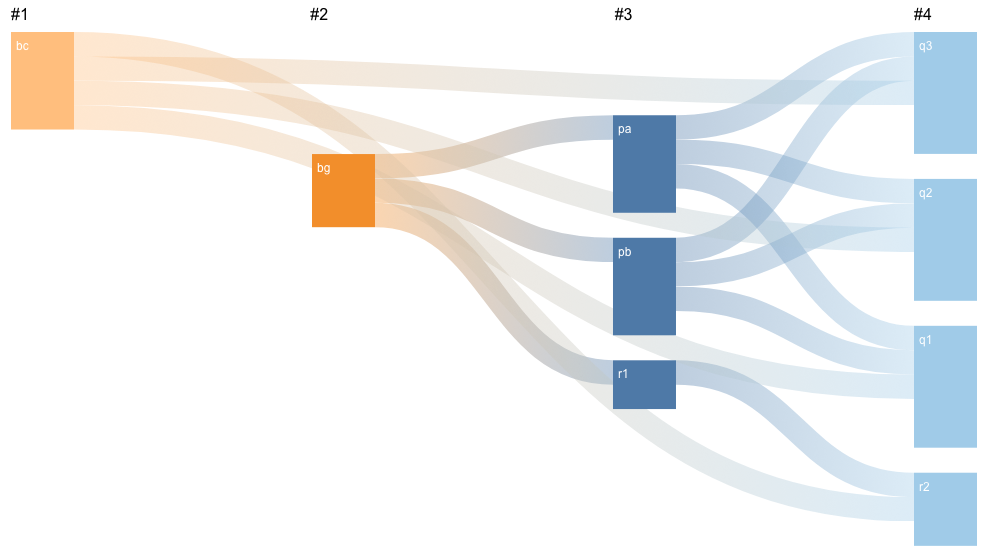 [2.0.1] - 15-09-2020
IMPROVEMENTS
Fix for labels not showing on browsers in certain situations.
[2.0.0] - 29-06-2020
ADDED
Format Measures! You now have more freedom over measure formatting like you are used to in Tableau, choose between Numbers, Percentages, Prefix, Suffix, Display Units and more!

Custom label support! You can now customize labels in visuals the way you are used to in Tableau. Custom labels support free text input & HTML tags. Use HTML tags like:

br, H1, H2, a, img, and more...

This new feature is currently only released for the Sankey Diagrams and will follow in other visuals soon. Please provide feedback!

Font colors for links and nodes

We have added more features to the Sankey Diagrams:

Sankey Diagram Header to show dimension names above the Sankey
Sankey Diagram Node sorting
Sankey Diagram Link sorting
Sankey Diagram support for custom labels!
Enable / Disable individual labels
IMPROVEMENTS
Improved stability of Tooltips.